Log onto your account.
On your Dashboard, click on 'Services' at the top of the webpage. From the list of options given, click on 'My Services'.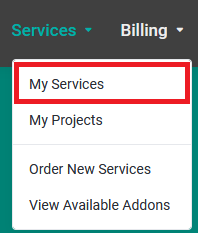 Find the service you want to upgrade from and click the three dots beside it on the right-hand side.
Another list of suggestions will pop up. Click on 'View Details'.
This will take you to the 'Managing' page. From here, you will need to click on 'Upgrade/Downgrade' on the left-hand side of the page.
Select the hosting subscription you want to upgrade or switch to from the range of options given.